In 2022, ethereum has been in a bearish trend. It has dropped 40% year to date, far more than the average cryptocurrency. ETH has a long history of being one of the best-performing cryptocurrencies.
Since its introduction in 2016, it has largely outperformed Bitcoin, resulting in a narrowing of the market capitalization gap between the two coins. However, this year has deviated significantly from the long-term tendency. A key incentive to buy Ether has been removed from the market due to the waning of the NFT craze. ETH is now mostly used by traders, and demand for the cryptocurrency is far lower than it was late last year.
Ethereum Price Swings
The market has seen no apparent direction in the last 24 hours, as a consolidation between $2,500 support and $2,600 resistance continues. As a result, we can expect a follow-up push to either side after ETH/USD breaks to either side.
5 BTC + 300 Free Spins for new players & 15 BTC + 35.000 Free Spins every month, only at mBitcasino. Play Now!
As a result, the Ethereum (ETH) blockchain continues to undergo significant changes. Santiment, an on-chain data source, revealed that the Ethereum (ETH) price has dropped to an eight-month low, which is welcome news for ETH investors. According to Santiment:
Ethereum is bouncing rapidly around the $2,560 level currently. In addition to the extremely tight #SP500 correlation it has right now (even more than Bitcoin), it's also seeing 8-month low fees right now. $ETH last had fees below $4.10 in mid-July.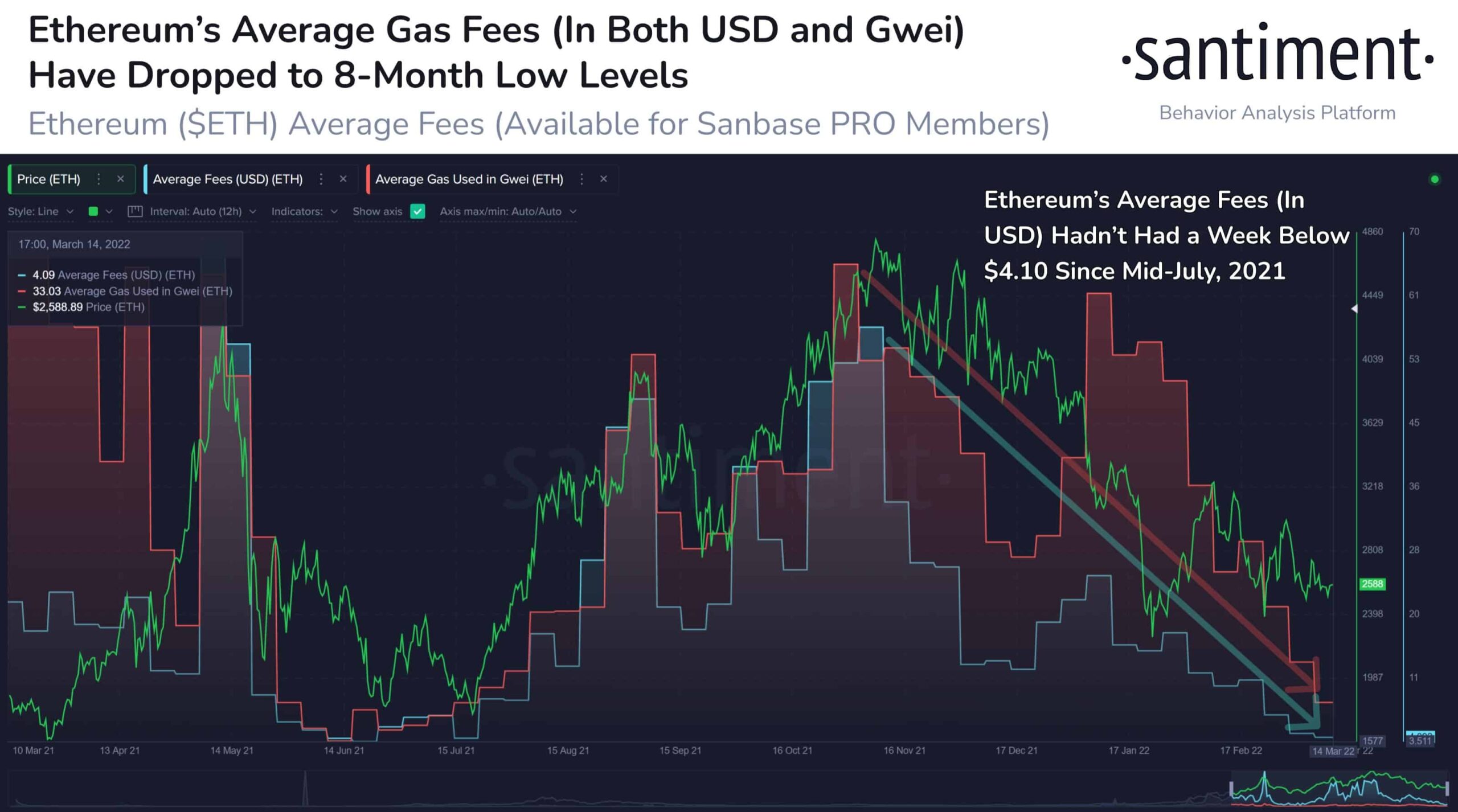 Source: Santiment
Over the last 24 hours, the market has risen somewhat. As they both proceeded to consolidate, Bitcoin gained 0.38 and Ethereum gained 0.34. Price activity in the remainder of the market has been similar.
BitStarz Player Lands $2,459,124 Record Win! Could you be next big winner? Win up to $1,000,000 in One Spin at CryptoSlots
Get 110 USDT Futures Bonus for FREE!
Related Reading | Where Ethereum and Bitcoin Headed After Musk's Tweet
Investors See Upside
On Monday, March 14, Bill Barhydt, CEO of crypto exchange Arba, told CNBC that Ethereum has the potential to reach $30,000-$40,000.
Bill is becoming more enthusiastic as a result of the various use cases and advances in the Ethereum ecosystem. He said.
"Ethereum's network effect is based on this idea that it could become the world's computers. It's being used for stablecoins, NFTs (non-fungible tokens), defi (decentralized finance) … and gaming now."
By the middle of 2022, the Ethereum 2.0 update is projected to be operational. He believes that after the initial rush to stake, there may be a "sell-the-news effect." However, he is optimistic that if the overall gas fee is reduced, ETH investors will benefit. Bill stated,
"If the gas fees and the transaction fees come down, which is the promise of the proof-of-stake, look out, because now all of the impediments of those network effects are taken out of the way. I think, you are talking potentially $30,000-$40,000 Ethereum".
ETH/USD trades close to $2,500. Source: TradingView
Whatever the rationale for Ethereum's price remaining in the $2,500 range, there are no technical reasons for it to show any strength. ETH is below the 2022 Volume Point Of Control, continues below the bearish pennant, and is now below the 61.8 percent Fibonacci retracement of the all-time high to the trough of the strong bar on the weekly chart at $2,570, in addition to the Ideal Bearish Ichimoku Breakout confirmation.
The Ethereum price's downside risks are most likely restricted to the $1,800 value level in June 2021 and July 2022.
Related Reading | Abra CEO Predicts Ethereum Could Reach $40,000 – But Some Fintech Analysts Don't Agree
Featured image from Pixabay, chart from TradingView.com